Part-Time & Outsourced CFO Services in San Diego
Signature Analytics is an outsourced accounting firm that brings stability to the framework of your accounting and finance department. Not all companies can afford a full-time Chief Financial Officer (CFO), even if they need one. That is why we provide San Diego businesses with part-time CFO services.
Our CFO-level employees will act as the finance department for your business on a part-time, ongoing basis, providing you with forward-looking financial analysis and reporting, as well as oversight and support to lower-level accounting staff. Our CFOs are instrumental in organizing your accounting information for detailed projections and strategically sound business decisions. They will establish effective financial systems that will generate and inspire collaboration for ongoing financial foresight.
Outsourced & Part-Time CFO Services in San Diego
Our team of highly-experienced accountants in San Diego can provide the following outsourced & part-time CFO services for your business:
Cash Management & Forecasting
Budgeting & Expense Control
KPI Development & Analysis
Compensation Plan Development
Year-Round Tax Planning
Internal Stakeholder Communications
External Stakeholder Communications
Ongoing Analysis & Review
Frequently Asked Questions
Q: What should small to mid-size businesses expect from their CFO?
CFOs provide the all-encompassing business projections that will ensure continued financial success. CFO responsibilities often include: forward-looking financial analysis, cash management, budgeting and expense control, compensation plan development, KPI development and analysis, board and investor communications, and other human resource decisions. They are instrumental in creating a stable infrastructure for financial metrics that assist the rest of the company in ongoing business decisions.
Q: Do you provide interim CFO services?
No. We function as the accounting and finance department for our clients on a consistent basis. Unlike a temporary or interim CFO hire, this ongoing relationship allows us to establish a stronger, long-term collaboration with your company and all internal and external stakeholders.
Q: What's the difference between your services and a CFO consultant?
A CFO consultant will typically only provide the higher-level financial analysis, direction and advice for your business. Whereas, with Signature Analytics, you will get a full team of experienced accountants to cover all of your accounting and financial needs. We employ accountants and varying levels of expertise who work together as a fully-functioning financial unit for your business. This includes CFOs and controllers to provide the same analysis and oversight you would receive from a CFO consultant, along with accounting managers, senior and staff accountants to perform the rest of your accounting and finance needs. Whether we're acting as your entire accounting department, or just assisting your current staff, we will enhance your internal controls and processes with our expertise in all aspects of financial analysis.
Watch a Quick Overview Video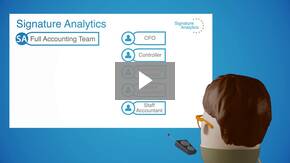 Get A Free Consultation
Need additional accounting support? Contact us today to schedule a free consultation.