Professional Bookkeeping Services in San Diego
Signature Analytics is an outsourced accounting firm that provides extensive financial support by either complementing your existing accounting staff, or acting as the entire accounting and finance department for your business (CFO to staff accountant).
Our staff accountants and senior accountants in San Diego can provide basic accounting and bookkeeping services for your business on an ongoing basis, with oversight from our more senior-level accounting employees. They will use their accounting expertise to organize and balance your accounts to ensure you always have timely, accurate and reliable financial information. Our basic accounting and professional bookkeeping services include keeping the records of all financial transactions, posting debits and credits, producing invoices, managing payroll, and more.
Outsourced Bookkeeping Services in San Diego
Our team of highly-experienced accountants can provide the following outsourced bookkeeping and basic accounting services for your business:
Accounts Payable (A/P)
Accounts Receivable (A/R)
Bank Reconciliations
Credit Card Reconciliations
Inventory Accounting (e.g., entering purchase orders, receiving inventory)
Producing Financial Statements (Balance Sheet, P&L, Cash Flow Statement)
Frequently Asked Questions
Q: What's the difference between a bookkeeper and an accountant?
The roles and functions vary between bookkeepers and accountants. They assist each other in the development of financial information. A bookkeeper organizes and processes the day-to-day paperwork for business transactions. Accountants take on more high-level responsibility with more of a direct relationship to CEOs/business owners. They oversee the larger picture of your financial projections and offer strategic advice. They provide important financial documents such as profit-and-loss statements.
Q: Do I need a bookkeeper or an accountant?
You will want both for cohesive financial analysis. While a good bookkeeper will manage your accounts and understand financial procedures, an accountant offers the financial projections of forecasting and future planning. Accountants manage your profitability potential and analyze cash flow. Complex business systems with multiple clients will benefit from having both accountants and bookkeepers. Bookkeepers often take on the tedious tasks of recording information while accountants analyze and theorize your business's status.
Q: Do you provide online bookkeeping services?
Yes, as an outsourced accounting team with the latest accounting technology, we are able to provide accounting and bookkeeping services from any location; however, we understand the importance of face-to-face interactions. For this reason, we have a local office and accounting staff in San Diego, allowing our accountants to provide a mix of on-site and remote accounting support depending on the needs of your business.
Watch a Quick Overview Video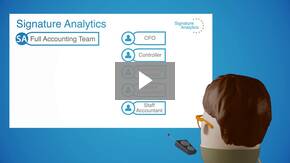 Get A Free Consultation
Need additional accounting support? Contact us today to schedule a free consultation.