Outsourced Accounting Services in Orange County
Signature Analytics is an outsourced accounting firm dedicated to providing your business with timely and accurate accounting reports and financial analysis on an ongoing basis.
Depending on your needs, our team of highly experienced accountants can work with your internal accounting employees, or act as your entire accounting department (CFO to staff accountant). Our flexible approach ensures that you will have the accounting and finance support you need to grow your business.
Orange County Outsourced Accounting Services
Our team of highly-experienced accountants can provide the following outsourced accounting and finance services for your business:
Ongoing Operational Accounting Support
Forward-Looking Financial Analysis
KPI Development
Cash Management & Forecasting
Budgeting
Technical Accounting & Reporting
Financial Consulting
Accounting Support for Significant Business Events
Frequently Asked Questions
Q: What exactly is outsourced accounting?
The majority of small and mid-size businesses are not in a position to support the costs of an entire accounting department (CFO, controller, accounting manager, accounts receivable/payable, and staff accountant). Outsourced accounting is a way for these companies to receive all the benefits of a full accounting department without having to hire that staff internally. With outsourced accounting, you'll have a full team of highly experienced accountants managing your accounting and finance function on an ongoing basis, and the flexibility to only use and pay for the level of accounting support and resources your business requires.
Q: Will outsourced accounting services replace my current accountant?
Not necessarily. We can act as your entire accounting department, but we can also customize our services to complement the accounting resources you already have in place. In fact, 60% of our clients have at least one internal accountant.
Q: Does your team work locally here in Orange County?
Yes, we have a local office, management and accounting team in Orange County (Irvine, California) to provide your business with outsourced accounting services. Our accounting team can work on-site at your office in Orange County, remotely from our office, or a combination of the two depending on your preference. Our accountants in Orange County receive support and share resources with our corporate office in San Diego, California—offering your business a wider range of expertise.
Watch a Quick Overview Video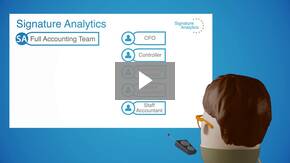 Get A Free Consultation
Need additional accounting support? Contact us today to schedule a free consultation.