Professional Bookkeeping Services in Orange County
Signature Analytics is an outsourced accounting firm that provides ongoing accounting support, including basic accounting and professional bookkeeping services to small and mid-size businesses.
Our Orange County bookkeeping services are performed by our staff accountants and senior accountants, with oversight from our accounting managers, controllers and/or CFOs. Our basic accounting and professional bookkeeping services include systematically recording all financial transactions, posting debits and credits, producing invoices, completing payroll, and more.
Based on the level of bookkeeping and basic accounting support you need, we can act as your entire accounting team, or we can leverage and support your internal accounting staff.
Outsourced Bookkeeping Services in Orange County
Our team of highly-experienced accountants can provide the following outsourced bookkeeping and basic accounting services for your business:
Accounts Payable (A/P)
Accounts Receivable (A/R)
Bank Reconciliations
Credit Card Reconciliations
Inventory Accounting (e.g., entering purchase orders, receiving inventory)
Producing Financial Statements (Balance Sheet, P&L, Cash Flow Statement)
Frequently Asked Questions
Q: What's the difference between a bookkeeper and an accountant?
Bookkeepers and accountants share common goals but take on different responsibilities within the financial cycle. Bookkeepers primarily maintain systematic records of all financial transactions. Whereas, accountants perform more high-level processes that include analyzing operation costs, preparing financial statements, and helping the business owner understand the impact of their financial decisions.
Q: Do I need a bookkeeper or an accountant?
If you want to be able to do forecasting, cash flow analysis or project/product profitability analysis, then you will need an accountant rather than a bookkeeper. If your business is highly complex, you have limited internal resources, or if you do not want to take on (or do not have the skill set to take on) the accounting side of your business, then you should hire an accountant. Otherwise, it may be more fitting to hire a bookkeeper or have an office manager handle the basic bookkeeping responsibilities for your business.
Many of our clients actually have an in-house bookkeeper or office manager performing the basic accounting functions for their business. Signature Analytics can provide oversight and support for internal bookkeeping staff, while also performing the higher-level financial analysis and reporting you need to help grow your business.
Q: Do you provide online bookkeeping services?
Yes, technology enables us to provide accounting and bookkeeping services from just about anywhere; however, having a local presence in Orange County gives our accountants the ability to spend at least a portion of their time working alongside our clients at their offices.
Watch a Quick Overview Video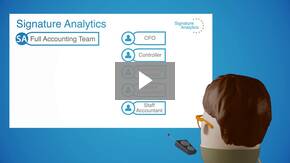 Get A Free Consultation
Need additional accounting support? Contact us today to schedule a free consultation.