Part-Time & Outsourced CFO Services in Los Angeles
Signature Analytics is an outsourced accounting firm that understands the value financial analysis plays in business success. Having timely and accurate financials and reports on a monthly basis, as well as actionable financial analysis, is imperative to long-term success. This information enables business owners to more effectively run their company, analyze operations, and guide business decisions—making it essential for companies looking to grow.
Unfortunately, many companies cannot afford a full-time CFO (Chief Financial Officer) and operate with limited accounting and financial information. That's where we come in…
Our Los Angeles outsourced accounting and part-time CFO services enable every business to—not only have an experienced CFO working with their company on a long-term, ongoing basis—but that CFO is supported by an entire outsourced accounting team, including a controller, accounting manager, senior and staff accountant. This entire team can act as the accounting and finance department for your company, or complement any internal accounting staff. Either way, our services are completely flexible to accommodate the level of accounting and finance support you actually need—so you get all of this at a price you can afford.
Outsourced & Part-Time CFO Services in Los Angeles
Our team of highly-experienced accountants in Los Angeles can provide the following outsourced & part-time CFO services for your business:
Cash Management & Forecasting
Budgeting & Expense Control
KPI Development & Analysis
Compensation Plan Development
Year-Round Tax Planning
Internal Stakeholder Communications
External Stakeholder Communications
Ongoing Analysis & Review
Frequently Asked Questions
Q: What should small to mid-size businesses expect from their CFO?
CFOs at companies of all sizes (large or small) should analyze financial information and provide financial insight and analysis that will guide decision making for the business. Specifically, CFO responsibilities often include: forward-looking financial analysis, cash management, budgeting and expense control, compensation plan development, KPI development and analysis, board and investor communications, and providing insight and analysis to support human resources and operational decisions. Strategic forecasting is also a CFO responsibility that helps identify patterns of potential profitability and can provide guidance for future business decisions.
Q: Do you provide interim CFO services?
No. Unlike temporary or interim staffing, we work with our clients on a long-term, ongoing basis. This allows us to provide businesses with a fully-functioning outsourced finance and accounting department that feels like an extension of their team. It also enables us to obtain a good understanding of your business, work together towards meeting your long-term goals, and build strong relationships with internal and external stakeholders.
Q: What's the difference between your services and a CFO consultant?
A CFO consultant will provide high-level financial analysis, support and guidance to your business. With Signature Analytics, our CFOs provide those same services and value, but they are also supported by an entire accounting team (ranging from a CFO to a staff accountant), so we can manage all of the accounting and finance functions for your company.
Watch a Quick Overview Video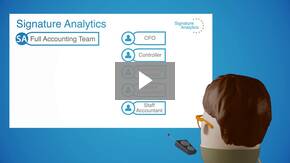 Get A Free Consultation
Need additional accounting support? Contact us today to schedule a free consultation.