Outsourced Accounting Services in Los Angeles
Signature Analytics is an outsourced accounting firm dedicated to providing small and mid-size businesses with superior quality accounting support and financial expertise on an ongoing basis. We do this by acting as the accounting and finance department for our clients, including complementing any internal accounting staff they may have.
The accounting team we assign to your business will include experienced accountants–ranging from a CFO to perform the high-level financial analysis, reporting and oversight, to a staff accountant who will perform the more basic-level accounting functions for your business.
This full team (CFO, controller, accounting manager, senior and staff accountant) will perform all the necessary accounting and finance functions your business requires, at a level that meets your needs. Some of our clients spend $2K a month on accounting support, while others pay upwards of $10K a month–it really depends on the level of ongoing support your business needs. We are flexible to accommodate.
Los Angeles Outsourced Accounting Services
Our team of highly-experienced accountants can provide the following outsourced accounting and finance services for your business:
Ongoing Operational Accounting Support
Forward-Looking Financial Analysis
KPI Development
Cash Management & Forecasting
Budgeting
Technical Accounting & Reporting
Financial Consulting
Accounting Support for Significant Business Events
Frequently Asked Questions
Q: What exactly is outsourced accounting?
Businesses need a solid accounting and finance department to provide them with the insight necessary to grow. This includes timely, accurate and organized financial information and reports, as well as forward-looking financial analysis such as projections and cash flow analysis. Outsourced accounting is a cost-effective alternative that enables companies to get this information, without employing an entire accounting and finance department internally.
A full accounting department will typically include a CFO, controller, accounting manager, accounts receivable/payable, and staff accountant. This is a hefty payroll for small and mid-size businesses, not to mention having to hire, retain and manage this team. With outsourced accounting, your business can have this full team acting as your accounting department on an ongoing basis, but with a level of flexibility that fits your business.
Q: Will outsourced accounting services replace my current accountant?
Not always. Our accountants can be your whole accounting department, but we can also come in and support internal staff. We customize our teams to accommodate and complement our clients' business. In fact, 60% of our clients have at least one internal accountant.
Q: Does your team work locally here in Los Angeles?
Yes. We have an office in Long Beach to provide outsourced accounting services to businesses located in Los Angeles and surrounding areas. Our local team of accountants will spend some of their time working alongside your team in your office, while some of the work they perform is done remotely. Either way, we are in constant communication with your company because we aim to feel like an extension of your team. Having a local presence in Los Angeles enables us to do that.
Watch a Quick Overview Video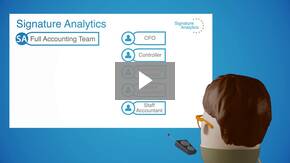 Get A Free Consultation
Need additional accounting support? Contact us today to schedule a free consultation.