About Signature Analytics
The majority of small and mid-size businesses are not in a position to support the costs of an entire accounting department (CFO, controller, accounting manager, accounts receivable/payable, and staff accountant). That's where we come in.
Signature Analytics is an outsourced accounting firm providing ongoing accounting support and financial analysis to small and mid-size companies in stages ranging from innovative start-ups to well-established businesses. Our team of highly experienced accountants act as your entire accounting department (CFO to staff accountant), or complement your internal accounting staff, to provide the ongoing accounting support and financial analysis necessary to effectively run your company, analyze operations, and guide business decisions.
What Sets Us Apart?
We are committed to providing our clients with the highest level of quality and the flexibility required to best support their outsourced accounting needs. We proactively identify ways our clients can improve their financial decision making and continually leverage proven technologies and systems to streamline our processes.
Our teams of accounting and financial professionals will integrate into, and leverage, our clients' current accounting function. Based on their specific accounting needs, we will most commonly:
Operate as the entire accounting department
Provide oversight and support to lower-level accounting employees, such as a bookkeeper or office manager
Complement higher-level accounting staff (e.g., controller or part-time CFO) and perform basic accounting functions
This flexibility gives our clients access to higher and more comprehensive levels of accounting expertise, but at a flexible cost structure that fits their business.
Quality has always been our top priority and this starts with our people. We only hire the best accountants, with all senior level accountants having at least several years of public accounting experience. We also identify and put in place proper levels of review for every engagement to ensure that the financial reports we provide our clients can be used to make informed business decisions. Our proactive approach to financial management, ongoing communication with our clients, quality of work performed, and internal review processes are essential to our ongoing quality.
Proactive & Forward-Looking
We understand that accurate accounting and financial information is imperative to running a successful business. Therefore, we proactively create custom financial reports and initiate regular discussions with our clients' management to ensure they are able to make decisions based on accurate financial analysis. When requested, we will also participate in financial discussions with client tax advisors, attorneys, bankers, etc. to ensure proper planning strategies. Ultimately, we are the trusted advisor for our clients on all accounting matters.
Watch our Video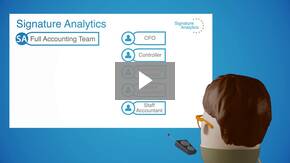 Get A Free Consultation
Contact us today to schedule a free consultation with one of our CFOs.